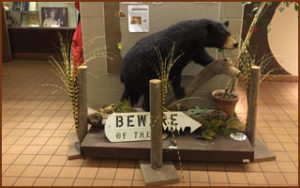 Now that the doors to the Interpretive Center are open to the public, we extend a warm welcome and are eager to show you around our newly renovated facility! Our lobby has received a new look as well! With new paint colors and displays, your experience with Howard Christensen Nature Center begins right when you walk through the door. With a grant from the Sparta Community Foundation, we have developed a new Critter Room bursting with happy critters.
After construction, the Interpretive Building also received new displays and a new open concept layout. The Great Lakes Energy Peoples Fund has also helped benefit the building by supplying a grant for our table coverings on the new display tables. The staff and volunteers here at HCNC have also opened a new insect corridor featuring Harold Vander Kam's collection. We have also opened a new library and study lounge for the public. Howard Christensen Nature Center also holds the Frank Rackett collection in our Bird Room. More than 20% of the specimens in the collection are extinct today.
Many new changes have come to HCNC and we hope that you are just as excited about them as we are!
Price: Free, with Membership or Day Use Permit.
Open year around! Trails are open from dawn to dusk.
Hundreds of Animal Displays – Including Harold Moody's vast collection of birds, a loon, a coyote, and a bobcat. We also have:
A Mute Swan and Bald Eagle.
Bird Wall
Animal Resource Center (Critter Room)
35 Million Year Old Fossils
21' Anaconda Snake Skin as well as a Jaguar Skin and 3 Monkey Skins from the Amazon
Timberland Playground- Coming 2015
Picnic Tables and Seating Area
The Finkbeiner Memorial Rain Garden
Camping Programs
Miles of trails open to the public
Meet our friends who live at the Nature Center
Penelope the Vietnamese Pot Bellied Pig
Pebbles the Juliana and Mini Pot Belly
Lil' Bam Bam the Juliana
Big Daddy and Little Billy the African Pygmy Goats
Dexter the Florida King Snake
Malibu St. Lucia the Red Blood Python
Saraha the African Sideneck Turtle
Matilda the Russian Tortoise
And many more!
Visit Us!
16190 Red Pine Dr. Kent City, MI 49330
(616) 675-3158
info@howardchristensen.org
Admission Fee
Non-Members: $3/person
Members: FREE
Interpretive Center Hours
Mon: CLOSED
Tues: CLOSED
Wed: 11am – 4pm
Thurs – Sun: 11am – 5pm
Hiking all days during daylight hours

Visit Us!
16190 Red Pine Dr. Kent City, MI 49330
(616) 675-3158
info@howardchristensen.org
Admission Fee
Non-Members: $3/person
Members: FREE
Interpretive Center Hours
Mon: CLOSED
Tues: CLOSED
Wed - Sun: 11am - 5pm