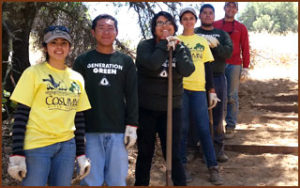 Howard Christensen is a nonprofit nature center that provides many opportunities for internships in all major fields. Some of the tasks include, (but are not limited to):
Fundraising and partnering with businesses
Planning, advertising and operating events
Project Management
Public Relations (media, PR, volunteers, marketing)
Working with the biology and geology labs & activities
Ecosystem restoration
Administrative/Business management
If there are any other majors or any other ideas for an internship, please Contact Us.
Visit Us!
16190 Red Pine Dr. Kent City, MI 49330
(616) 675-3158
info@howardchristensen.org
Admission Fee
Non-Members: $3/person
Members: FREE
Interpretive Center Hours
Winter Hours
11am to 4pm Every Day
Hiking all days during daylight hours

Visit Us!
16190 Red Pine Dr. Kent City, MI 49330
(616) 675-3158
info@howardchristensen.org
Admission Fee
Non-Members: $3/person
Members: FREE
Interpretive Center Hours
Winter Hours
11am to 4pm Every Day
Hiking all days during daylight hours