T
he Howard Christensen Nature Center (HCNC) has great diversity of habitats and a variety of trails to entice family hikers, snowshoeing, and cross country skiing. You will notice trail signs at trail junctions have three different marker codes. Most obvious are the printed trail names on signs. Each trail also has a unique picture and color code.
Just some of the features of our nature center
Giant snapping turtles in our lake and other wildlife throughout.
Lakes, a creek, and ponds.
Miles of groomed trails.
Two floating docks.
Benches, amphitheatre and campfire pits (reservation only).
Group Picnic areas – first come first served.
Plant species from across North America.
Two Outlook Towers.
Camping
Geocaching
Nature's Habitats Trail (white lettered sign with butterfly icon)
The longest and widest trail at HCNC. It's route leads through the major ecological communities found at the nature center. The trail traverses oak upland, skirts swampy/bog, crosses a small stream outlet from the lake, cuts through the Enchanted Norway Spruce forest, Red Pine plantation, accesses Spring Creek, meanders through mature aspen forest, transects the arboretum, Scotch Pine plantation, and concludes by Tadpole Pond where it began. Parts of the trail are located in the Rogue River State Game Area. Length is 2.1 kilometers (1.5 miles).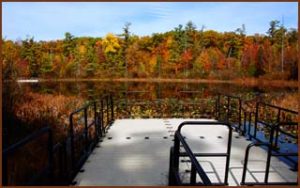 Deer Hollow Trail (black lettered signs with deer icon)
Located in the southwest corner of HCNC's property, it loops through an upland oak, aspen forest, Scotch Pine plantation and traverses a swamp boardwalk. The trail connects with the arboretum loop trails and Chickadee Circle. Oak savanna habitat management area and owl roost forest are found along the trail. It is about 1.2 kilometers (.75 miles).
Chickadee Loop (yellow lettered signs with chickadee icon)
Trail loops from the Welcome Center westward and north around tadpole pond, past vernal pond, over a floating bridge past Howard Christensen Memorial Spring, and returns to the Welcome Center. It is comprised of oak forest, oak savanna, a vernal pond and permanent pond. Its length is about .4 kilometers (.25 miles).
Arrowhead Trail (orange lettered signs with arrowhead icon)
An ecological succession trail leads through an old fallow farm field, shrubland, developing pioneer forest, a pine plantation, and sub climax forest. HCNC's highest point is on this trail. Length is 1.5 kilometers (.9 miles).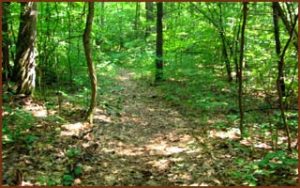 Succession Loop (Gray lettered signs with rabbit icon)
Begins along the south side of the field north of Red Pine Interpretive Center and progresses east until it loops south to join Arrowhead Loop for a return to the handicap parking area near the interpretive building.
A "designed with nature" concept was used in planning parking and building placement to maintain the nature center's natural ambiance and provide visitors with nature exposure before they encounter the interpretive center building. By using the Welcome Center parking lot, it keeps the Red Pine Interpretive from view and offers a nature walk before encountering the human constructed environment. A special needs parking area was designed for direct access to the building by use of the north driveway.
The second interpretive building is located off 20 Mile Road with a similar "design with nature" construction. A loop parking area keeps vehicles away from the building to provide a quiet, calming, access walk to the building hidden in the woods. A drive for direct handicap parking access is available from loop parking area.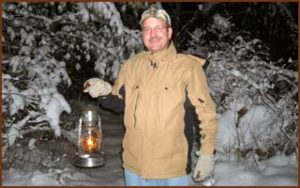 Spring Creek Loop (light blue lettered signs with frog icon)
Begins at the Welcome Center parking area and follows east past Chrishaven Lake and lake's floating dock. It connects with Nature's Habitats Trail (NHT) for a short distance and then continues eastward to Spring Lake where it loops south to follow the ridge above Spring Creek westward. It joins with NHT along the south side the enchanted Norway Spruce forest at the Spring Creek access spur and continues west until it spurs north to complete a loop near Chrishaven Lake.
Arboretum Paths (Red lettered signs with oak leaf icon)
It is a two-part trail. The East Arboretum Loop contains many species originally planted for ornamental transplant. The West Arboretum Loop is a Spruce/Pine plantation. The East Arboretum Loop is .4 kilometers (.25 miles) long. The West Arboretum Loop is .5 kilometers (.3 miles).
Boardwalk to Chrishaven Lake (Dark blue lettered signs with sensitive fern frond icon)
A boardwalk leads through an old lake that has been largely replaced with vegetation to create a swampy/bog. A floating dock is present on the remnant of a once much larger lake and the boardwalk leads north to connect with Nature Habitats Trail. Its length is .27 kilometers (.2 miles).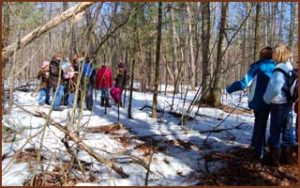 Swamp Ridge Trail (Brown lettered signs with turtle icon)
Begins at the amphitheater fire circle between the Welcome Center parking area and the Red Pine Interpreting Building. It follows the south edge of the swamp eastward to Chrishaven Lake and continues east along the ridge. At the open area south of the lake it raises from the lowland trail to upland but continues to follow the swamp ridge until meets Nature's Habitats trail.
Thunderwood Trail (Green lettered signs with woodpecker icon)
Trail departs from Nature's Habitats Trail, loops through upland forest to a boardwalk through what has become mostly swamp from what was once a marsh. Before entering an upland forest, hikers encounter large hemlock trees on their way to joining Arrowhead Trail. Length is .44 kilometers (.27 miles).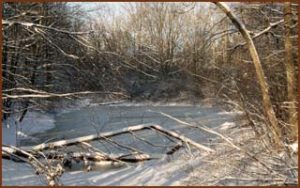 Some unnamed trails are meant for limited activity to allow wildlife privacy but are used during special programs. HCNC's trail plan provides human access to nature niches balanced with providing plants and animals with needed sanctuary isolation for survival. Design incorporates three-use activity levels: High Activity, Passive Activity, and Limited Activity areas.
Constructed features along the trails enhance family hiking experiences. They include two interpretive buildings, Howard Christensen Memorial Spring, floating docks on the north and south side of Chrishaven Lake, Floating Bridge on Tadpole Pond, Swamp Shelter and Swamp decks on NHT, amphitheater, Swamp Tower, Tadpole Tower, Legend Circle, and Serenity Circle. A Welcome Center with restrooms is located at the south parking area.
Visit Us!
16190 Red Pine Dr. Kent City, MI 49330
(616) 675-3158
info@howardchristensen.org
Admission Fee
Non-Members: $3/person
Members: FREE
Interpretive Center Hours
Mon-Thurs: Closed
Fri – Sun: 11am – 4pm
Hiking all days during daylight hours

Visit Us!
16190 Red Pine Dr. Kent City, MI 49330
(616) 675-3158
info@howardchristensen.org
Admission Fee
Non-Members: $3/person
Members: FREE
Interpretive Center Hours
Mon-Thurs: Closed
Fri - Sun: 11am - 4pm