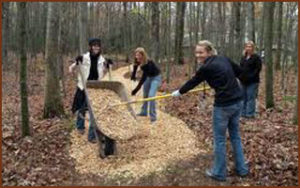 If you have ever walked our trails you know that we have several miles of trails and hundreds of guests to accommodate. With our new Adopt A Trail Program individuals and groups who frequent our property, or simply just love this place as much as us, can sign up to be the caretakers of your trail of choice for the year.
There is no sponsorship or donation fee attached to this program, and is a 100% good faith volunteer promise made and taken on the honor system. HCNC will provide all the tools, equipment, garbage bags and disposal, paint and anything else needed by the adopting parties. Signage will be placed acknowledging your commitment and dedication.
Much like the road commission adopt a road program, by signing up, you are simply committing as a volunteer to maintain your trail for the year. This is generally a quarterly undertaking and most trails are covered in under a day.
That's right, this commitment will only really require one day of your time every 3 months.
Your commitment to adopt a trail will entail trash clean up, overgrowth clearing, mulching (every couple years), spray painting potential trip hazards, repainting "trail blazes," and maintaining signs. This is a great opportunity for families, scouts, youth groups, high school sports teams, memorials to lost loved ones, community service credits for graduation and anyone who loves our trails and property. Be a part of the change you want to see!!
Contact us to learn more!
Visit Us!
16190 Red Pine Dr. Kent City, MI 49330
(616) 675-3158
info@howardchristensen.org
Admission Fee
Non-Members: $3/person
Members: FREE
Interpretive Center Hours
Mon-Thurs: Closed
Fri – Sun: 11am – 4pm
Hiking all days during daylight hours

Visit Us!
16190 Red Pine Dr. Kent City, MI 49330
(616) 675-3158
info@howardchristensen.org
Admission Fee
Non-Members: $3/person
Members: FREE
Interpretive Center Hours
Mon-Thurs: Closed
Fri - Sun: 11am - 4pm