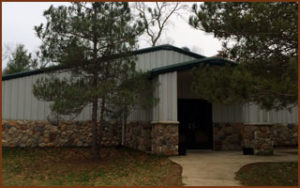 Why choose Camp Lily's Campground and Retreat Center? At Howard Christensen Nature Center we are proud to have 11 trails of pure nature that add up to about 12 miles.
Camp Lily's is a retreat center and campground for all types of events. From weddings, and scout service projects to fraternity events and family reunions. There is parking by the building and is plenty around the circle driveway. This gated entrance is not open to the public and is yours exclusively with your stay at Camp Lilys. There are two rooms with 12 beds each and the campground can accommodate approximately 50 tents. There are no RV hook ups or electric, but your guests are welcome to park off the grid in the circle drive.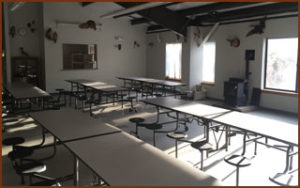 Retreat Center
Approximately 75-100 person capacity
Kitchen with ample counter space and residential appliances
Mess hall style seating for 60 (which can be folded up after dinner for a game room or common area around the pellet stove)
Large Men's and women's restrooms.
Gas grill on site
4 Stall Shower room
Educational displays sure to pique your interest
Heated AND Air Conditioned
Volleyball / badminton / yard games area just outside the door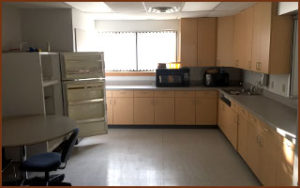 Campground
Four fire pits located in the group campground
Four picnic tables
Accommodates 50+ tents
A Short 50 yard walk to the building
Secluded and Quiet
Pavilion
Covered pavilion
Four picnic tables available
Outdoor electric
Concrete pad
Located 50 yards from the building
Beautiful wooded paths
Fax agreement to: (616) 675-4123.
Mail to: HCNC P.O. Box 42, Kent City, MI 49330
Email to: info@howardchristensen.org
Visit Us!
16190 Red Pine Dr. Kent City, MI 49330
(616) 675-3158
info@howardchristensen.org
Admission Fee
Non-Members: $3/person
Members: FREE
Interpretive Center Hours
Winter Hours
11am to 4pm Every Day
Hiking all days during daylight hours

Visit Us!
16190 Red Pine Dr. Kent City, MI 49330
(616) 675-3158
info@howardchristensen.org
Admission Fee
Non-Members: $3/person
Members: FREE
Interpretive Center Hours
Winter Hours
11am to 4pm Every Day
Hiking all days during daylight hours